Car Accident Lawyer Morgantown, WV

A car accident lawyer in Morgantown, WV knows that many people become involved in a car accident at some point in their life. Cars are essential for most people's everyday lives, so it is important to know what to do if you ever find yourself involved in a car accident. You need to know the steps to take if you ever do find yourself in this situation. Try to remember these simple things if you find yourself the victim of a car accident. Never hesitate to contact a car accident lawyer in Morgantown, West Virginia from Hayhurst Law, PLLC to get assistance with your case. 
---
---
Check Everyone for Injuries
Like you are instructed to do on a plane in the event of a crash, you need to check yourself before checking others for injuries. After all, if you are injured you will not be as helpful and will need to seek medical attention right away. Start by checking yourself, then move to the other people in your vehicle. Next, check to see if the people in the other vehicle are injured. If any injuries are moderate to severe, you will want to call an ambulance to the scene of the accident. Moreover, what should also be recommended, is for potential injuries to be checked out later even if injuries at the time are not visible. 
One of the reasons why is because sometimes certain injuries are not visible or felt at first.  However, these invisible injuries can get more severe and cause permanent damage if they are not taken care of in a quick and efficient manner.  One of the strongest examples of this pertains to what is known as whiplash.  Whiplash can occur when people get into vehicle accidents as well as plane accidents as well.  Whiplash involves neck injuries that may not always be visible at first and you may not experience pain at first either. However, if not taken care of, pain can become more and more severe and the sustained neck injury can become permanent.  This is why it is important to get x-rays after serious accidents. 
Call the Police
You should always have a police officer come to the scene of an accident to see what happened and write a police report. This will ensure that you have evidence to show in court or even while negotiating for a settlement. The police officer will take notes of each individual's personal information as well as a report of what appears to have happened and who is likely at fault for the accident. Moreover, when a person is at the scene of an accident or crime it is important that they do not leave the scene. If they do, the person may be questioned in relation to why they felt the need to leave in the first place. Additionally, anything that the person said (if they are suspected of being responsible for causing harm to someone), can and will be used against them in a court of law.
Take Photos and Collect Evidence
While at the scene of the accident, it is important to take as many photos as you can. As long as it is safe to get out of your vehicle, you can grab evidence with your phone. This could also include taking witness statements by recording voice memos on your phone. Witnesses are notorious for forgetting what happened very quickly, so it is crucial to collect these statements at the scene of the accident if possible. The police officer will likely take witness accounts but it can't hurt to take your own notes as well. 

Morgantown Car Accident Law Infographic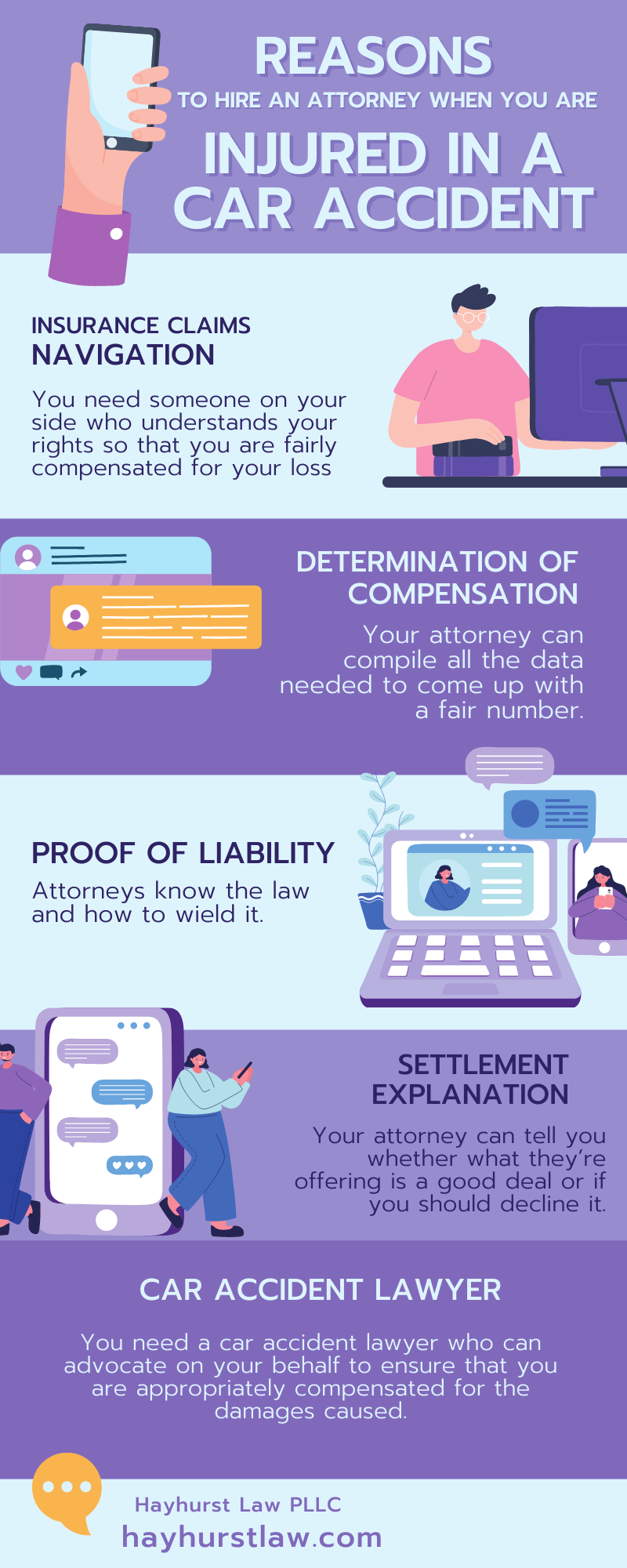 Important Types of Evidence for Car Accident Claims
If you were injured in a car accident caused by another driver, you have the right to seek compensation for your losses. However, in order to have a successful claim, you have to present the proper evidence. Here are several important pieces of evidence for car accident claims.
Medical Records
One of the first things you should do after a car accident is get checked out by a doctor. He or she will accurately diagnose your injuries and suggest the appropriate treatment. It is important to obtain copies of your medical records as soon as possible. These records will include information like your diagnostic test results, treatments, medication, and your progress. Medical records will prove that you did indeed sustain injuries from the car accident.
Police Reports
If a car accident resulted in property damage or bodily injuries, you should immediately call the police. They will come to the scene of the accident and file a police report which will include vital information such as the names of everyone involved, drivers' speed, and road conditions. Don't forget to obtain a copy of the police report. The report can't be used in court, but it can be useful in settlement negotiations.
Photos Of The Accident Scene
Photos of the accident are one of the most useful pieces of information you can have for your car accident claim. Try to capture clear shots of everything, including all the vehicles involved in the accident, visible injuries, and road conditions. Photos can demonstrate how the accident occurred, the vehicles involved and who was at fault. You don't need a fancy camera to take these photos. A smartphone camera will do just fine. If you are too hurt to take these photos yourself, don't hesitate to ask a bystander for help.
Witness Statements
If there were witnesses present at the accident scene, your Morgantown car accident lawyer may advise you to obtain their names and contact information. They can enhance the legitimacy of your claim by stating what happened before and after the accident.
Vehicle Repair Bills
If your vehicle sustained damage during the car accident, you'll want to keep copies of your repair bills from the mechanic. These bills will establish exactly how much it cost to fix your vehicle.
Morgantown Car Accident Law Statistics
National Highway Traffic Safety Administration and the State of West Virginia have compiled a data-rich report assessing traffic accidents within the state during a four-year period. During those years West Virginia saw 20.56 deaths for every 100K residents. By comparison, the national rate is 12.38 per 100,000.
The top 5 counties in West Virginia with the highest fatalities due to speeding were:
Kanawha County
Raleigh County
Mercer County
Cabell County
Harrison County
Top 5 Things Not To Say To An Insurance Agent
After you have been in a car accident, you may want to give the insurance company a piece of your mind. Being upset and even angry after a car accident is a totally normal response. On the other hand, you may be someone who brushes things off easily and may be willing to tell an insurance agent that you are fine or recovering well. However, it is important to understand that there is a certain way you should speak with an insurance agent and that there are things you should–and shouldn't–tell them. If you want to know how best to speak with an insurance agent, read on. 
Insurance agents are trained to get as much information possible out of you so that they can use this information to save their company money. They may come across as caring and hoping that you are doing okay. In reality, they want to use the information you provide against your own personal injury claim. Below, you will learn about some of the top things you need to avoid saying when you speak with an insurance agent. 
"That was my fault."

Under no circumstances should you take the blame for anything that caused–or partially caused–the accident to happen. Even if you think you might be partially responsible, you are not legally obligated to admit this to the insurance agent you are speaking with. Do not accept blame and do not apologize. 
"I'm feeling fine."

This is another issue that can come up with people who speak with insurance agents. Many people often respond to "how are you doing/feeling?" by saying "I'm fine." However, an insurance agent could use this trivial phrase to say that you are feeling better and will not need compensation to recover from your injuries.
The names of anyone involved.

If you spoke with friends or family about the accident or have a list of witnesses, you do not need to give the insurance company this information. They will likely try to contact them to get more information out of them that they can use against you for your claim.  
A recorded statement.

When you tell an insurance agent that they can take a recorded statement of you speaking with them, this gives them the ammunition they will need when arguing against their claim. No good can come from a recorded statement unless your lawyer says otherwise and you are not obligated to give them one. 
Accepting their offer.

The insurance agent may be ready to give you an offer when they are on the phone with you. It is imperative that you do not accept this offer. Your lawyer will have a good idea of what type of compensation you deserve after an accident and you should always speak with them before accepting any type of settlement offer. 
Most Commonly Asked Questions About Car Accident Claims Evidence
As it turns out, the most important piece of evidence in proving a claim in many car accident cases isn't always the biggest or most serious one. The following list of the most commonly asked questions about types of evidence in car accident claims can provide you with the information you need to know about — information that you will need to give to a personal injury attorney to win your case so that you can move on with your life after an accident like this.
What Are The Rules And Regulations?
There are a few basic things you should always remember when collecting evidence. First, only collect what you need and no more. The more that is collected and submitted, for example in photos, videos or reports, not only takes up space and time but it can also skew results (both via perception bias and statistical miscalculations). It is also important that you do not change any evidence once it has been collected — not even if you think it would improve a photo or video (such as adjusting exposure on a low-light scene). When collecting evidence from a car accident, there are certain rules and regulations to keep in mind. Always seek legal counsel before taking action because laws vary depending on where your accident took place.
Who Can Collect Evidence in Car Accidents?
In most cases, both drivers and their passengers can gather evidence. It's important to note that in some cases, a driver may be charged with failing to remain at an accident scene or making false statements about his or her involvement. Some people are tempted to remove evidence after an accident but there are a number of reasons why it's not always a good idea. For example, physical evidence may fade if it is exposed over time so it may be important not just to collect as much evidence as possible in one visit but also take steps immediately following an accident like wearing gloves and taking pictures before moving any objects on your car.
What Kind Of Evidence Should I Look For?
When you're putting together your car accident claim, it's important that you consider what type of evidence to look for. You should think about evidence in terms of three different categories: physical evidence, witness testimony, and victim testimony. While there is a possibility that your case will involve all three types of evidence, it might be more likely that only one or two are present. That said, you should prepare yourself mentally and professionally to receive any kind of evidence during a trial and be ready to show why each piece is important when necessary.
What Happens If I Don't Collect Evidence After An Accident?
In some cases, such as if you rear-end another car, it may be difficult or impossible to collect evidence. But in other cases, you can leave yourself vulnerable to false claims if you don't document what happened right away. At the very least, try to take as many pictures/videos as possible.
How Can I Protect Myself From Liability When Collecting Evidence?
If you're involved in a car accident, it's important to get all evidence immediately, as quickly as possible after an accident. But, how can you protect yourself from liability when collecting evidence? Do not touch anything at or near an accident scene — if another driver is injured and has their vehicle towed away, for example, leave your information with a witness (the police will do it if necessary) and take photos as soon as possible.
Should I Call the Police After A Car Accident?
 Yes, it's important to contact the police immediately after a vehicle collision. They will arrive at the scene of the accident and file a police report. The information will include essential information about the accident, such as when and where it occurred and the names of everyone involved. Although police can't give their opinion about who may have been at fault in the accident, the police report is still an important piece of evidence to have for your case.
If I'm Partly To Blame For The Accident, Should I Admit Fault?
 No. Even if you believe you're partly at fault for a car accident, you shouldn't take the blame. Avoid saying things, like "I'm sorry" or "I apologize." You might not truly understand all of the factors that caused the accident, and admitting fault may negatively affect your settlement.
How Much Is My Car Accident Case Worth?
 How much your car accident is worth may depend on several different factors, such as the severity of your injuries, cost of your medical, how much time you've taken off work, emotional distress, and potential future damage. A car accident lawyer in Morgantown, WV can conduct a full investigation of your case and then estimate how much your case is worth.
Should I Accept The Other Driver's Insurance Company's First Settlement Offer?
 If you've been hurt in a car accident, the at-fault driver's insurance company may try to contact you to offer you a settlement. While this may be tempting, it's not in your best interest to accept the first settlement offer. It may be too low to cover all of your expenses. Give your car accident lawyer more time to negotiate a fair settlement with the insurance company.
Are All Car Accident Injuries Immediately Obvious?
 No, they aren't. The truth is that many car accident victims feel fine right after a car accident. The adrenaline can mask pain, so they might think that they don't need medical care. However, they may start to experience pain and other symptoms days or weeks later. That's why it's important to seek immediate medical attention no matter what.
Will I Have to Take My Car Accident Case to Trial?
It depends on the circumstances of your case and whether or not you can reach a favorable settlement with the insurance company. Most people, though, settle their car accident claims out of the courtroom. However, if the at-fault driver's insurance company isn't willing to agree on a settlement that's fair, it may be necessary to go to trial.
Common Car Accident Injuries
A car accident can result in severe injury that necessitates medical attention. Your focus after a wreck should be on your wellbeing and recovery. Call 911, wait for the ambulance, and accept a medical evaluation at the scene. Even if you do not feel injury at the moments after the collision, you may have sustained injury that still needs treatment. Remember, your body may be in a state of shock, so any non-visible underlying injuries may have occurred but your system has yet to calm down and feel them entirely. Here are examples of some of the most common types of car accident injuries:
Traumatic Brain Injury (TBI)
Due to the force of the wreck, your head may have hit the side of the car, steering wheel, or been whipped back and forth rapidly. Traumatic brain injuries can be mild or critical, but all should receive medical attention. Symptoms of a TBI can include nausea, vomiting, excessive sleep, irritability, blurry vision, visible skull wounds, balance problems, memory loss, and more. Be sure to get yourself to the nearest hospital if you believe you or someone you care about sustained a traumatic brain injury, especially after being in a recent car accident.
Broken Bones and Wounds
It isn't uncommon for people to sustain a broken bone because of a car accident. The force of impact may have caused the arms or legs to be crushed, or objects within the car to get thrown around. Wounds on the skin can happen from broken glass, fire, or other debri. Broken bones often need weeks or even months of treatment before they can heal. Wounds may be so severe that they leave behind scars for life. Victims should be fairly compensated for wound care, broken bone treatment, and other such injuries.
Mental and Emotional Anguish
Being in a car accident is terribly stressful. Some victims may struggle with depression, anxiety, and post-traumatic stress disorder (PTSD). It may be difficult to even think about getting back into a car, let alone driving again. Physical injuries and mental anguish should both be treated seriously. If you feel that getting support from a therapist could be a useful part of your treatment plan, then we can make sure you get that care. Many victims don't realize that they may be entitled to compensation for mental anguish, and so they don't mention it during their legal consultations. Please be forthcoming about all the ways you have been negatively affected since the car accident, whether that be financially, physically, and/or mentally.

Hayhurst Law PLLC Morgantown Car Accident Lawyer
34 Commerce Dr. Suite 203 Morgantown, WV 26501
Morgantown Car Accident Lawyer Google Review
"I'm extremely happy with the service Eric provided. Eric is very professional and knows the law. After being in automobile accident , he was able to provide me with financial compensation! I highly recommend him for any of your legal matters." – Carolyn C.
Contact a Car Accident Lawyer
You need to have a lawyer on your side throughout this process. Even if you decide you want to go through insurance, your lawyer will be able to tell you if the settlement is fair or if you need to seek more damages. You should not be left with any bills at all that are regarding the accident. After all, if it was not your fault, you should not have to pay for it. Reach out to a Morgantown car accident lawyer from Hayhurst Law today to set up a risk-free consultation about your case; the team at Hayhurst Law, PLLC can go over the details of what happened and help you decide what next steps to take.