Dog Bite Lawyer Morgantown, WV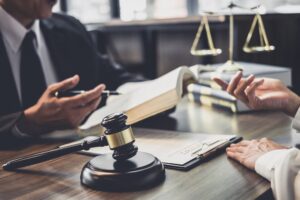 A dog bite lawyer Morgantown, WV residents rely on from Hayhurst Law PLLC is well aware that even the most friendly looking dogs have the ability to bite if provoked, startled, rough housing, or protecting a person or territory. The bigger the dog, the bigger the potential bite too, but a canine of any size can do great damage. If you or someone you love sustained an injury due to a dog bite or attack, then we urge you to get medical attention and then call us. A bite that required more treatment than what a standard first aid kit can offer is enough of a reason to consider filing a lawsuit against the dog owner. 
You may think that your situation doesn't warrant legal action,however, it may be advised that you do so. We can assess the situation and let you know what would be a wise step forward. If the bite was serious enough, then you may need repayment for medical costs and other losses incurred, such as missing out on work to stay home and care for your wounds. 
One of the biggest concerns with dog bites is that victims may not only sustain physical injury and scarring, but an infection can develop at the site too. There is bacteria present in a canine's mouth that can be passed from them to our system via a dog bite. The symptoms of an infection usually are seen within the first day or so after the incident. 
If you have wound tenderness, swelling, redness, numbness, tingling, or pus discharge, then you must get medical attention now for proper treatment. Other symptoms often associated with a serious infection include fatigue, muscle weakness, muscle tremors, night sweats, swollen lymph nodes, numbness around the bite, and wound oozing. 
As your Morgantown, WV dog bite lawyer can imagine, being bitten by a dog is a scary experience. We understand that you may be dealing with inner emotional and mental turmoil as well. No one wants to get bitten by a dog, and it can follow us in our interactions with other animals we may meet in the future. Depending on the severity of the incident, you may need support from a therapist. Rest assured that we can make sure your best interests are protected and that you get the support you need during this stressful time.
Call Hayhurst Law, PLLC
Dog bites can lead to severe injury and complications, so it is recommended that victims get medical care and then learn more about their options in seeking restitution from the at-fault dog owner. If you need help, don't hesitate to contact a dog bite lawyer in Morgantown, West Virginia from Hayhurst Law PLLC now.