Truck Accident Lawyer West Virginia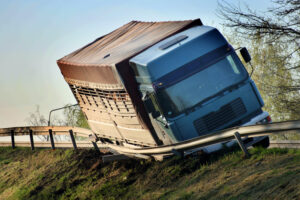 Millions of automobile accidents happen every year, and of these incidents, truck accidents can particularly be dangerous and may require a call to a West Virginia truck accident lawyer. You're entitled to compensation when you're a trucking accident victim. Besides initial medical expenses and property damages, this compensation can cover factors like pain and suffering. 
Common Reasons Why Trucking Accidents Happen 
Trucking accidents can occur for various reasons, and we'll explore some of the most common reasons why they happen: 
A Truck Driver Was Under the Influence
Unfortunately, truck drivers can sometimes drink or use illegal substances while on the job. While drinking sometimes occurs, driving under the influence often happens due to truck drivers using substances like meth or cocaine. These drugs let drivers stay up all night and help them battle driver fatigue. Being a truck driver is hard work; some drivers are expected to drive ten hours or more on the road with little to no breaks. 
Driver's Fatigue 
Doing any activity while tired can produce unfavorable results. Being tired can greatly reduce your concentration and ability to handle certain activities. Of course, when operating heavy machinery like a truck, being tired can result in accidents and may require you to call a West Virginia truck accident attorney. 
Bad Weather Conditions 
Truck drivers often don't have the luxury of staying home during a massive winter storm. Instead, they're out on the open road delivering everything we need as a society. Like any vehicle, however, a semi-truck or delivery van can get swept up in a rain or snowstorm. While a car losing control on an icy road is scary, a semi-truck losing control can result in a massive accident, affecting several vehicles at once. 
Poor Road Conditions 
While most automobile accidents happen in urban areas like the city or the suburbs, the most deadly accidents tend to occur in rural areas. Many factors can explain why this happens, but one factor is due to poor road conditions. Rural roads tend to be more outdated. Besides crumbling infrastructure, a road can also have poor or no road signage. Getting stuck behind a truck when they suddenly have to turn or when there's a massive pothole can cause a dangerous situation. Furthermore, determining who's precisely at fault can become a legal challenge. For example, it's the government's responsibility to maintain public roads, so the government itself might be liable. 
Faulty Parts
Automobiles, including trucks, have many measures in place to ensure they're operating correctly. A driver may see their check engine or brake light come on if there's a potential issue. However, truck drivers often don't own the trucks they drive and, instead, use a company's truck which can vary daily. Therefore, it's often the company's responsibility to ensure their trucks operate correctly. It's also possible for a part to malfunction at the time a truck is manufactured. When this or other issues occur, it's best to call Hayhurst Law PLLC to speak with a West Virginia truck accident attorney. 
What You Need to Do After an Accident
Being in an accident can be an overwhelming experience, especially if you need help from a West Virginia truck accident lawyer because you have been injured or your vehicle has been damaged. It's important to know what to do after an accident so that you can take the necessary steps to protect yourself and your rights. After understanding what needs to be done after an accident, contact an attorney at Hayhurst Law PLLC for help.
Check for Injuries
In the event of a truck accident, it is absolutely essential that you check yourself and any other occupants in your vehicle for any injuries. This is the very first step to take immediately after an accident. Even if there are no visible signs of an injury, pain may surface later on. Don't hesitate to seek medical attention right away if you are in any discomfort. Be sure to assess your own safety before attempting to move or help others who may be involved in the accident. If your injuries are serious, it is best to remain still and wait for medical personnel to arrive on the scene.
Move to Safety
If possible, move your vehicle off of the roadway and onto the shoulder or a nearby parking lot. If your vehicle is inoperable, turn on your hazard lights and remain in the car until help arrives. Moving to safety protects you and other drivers from the risk of further injury. It also helps first responders access the scene quickly and safely. It is important to remember that you should never attempt to move an injured person unless they are in imminent danger. Once you have moved to safety, be sure to contact law enforcement and wait for them to arrive.
Exchange Information
It is important to exchange information with the other driver. This includes your name, contact information, insurance information, and license plate number. Make sure that you write down any other relevant details such as the make, model, and color of the other vehicle. Additionally, you should collect contact information from any witnesses or passengers who may have seen the accident. This can help you later if you need to prove that you were not at fault for the accident with the help of a West Virginia truck accident lawyer. Be sure to be polite when exchanging information with the other driver and do not admit any fault.
Seek Medical Attention
Seek medical attention as soon as possible. Even if you do not feel any physical pain or experience any visible injuries, it is important to be checked by a medical professional in case of any delayed symptoms or underlying medical issues. You should also make sure that any of your passengers are taken care of and receive the appropriate medical attention. If the accident was severe and you were injured, it is important to document all medical treatment, including doctor visits and medications. Doing so can help you with any future legal cases. It is also important to keep all of your receipts and other documents related to your medical treatments.
Contact a Lawyer
Once you are safe and have received medical attention, you should contact a lawyer. They will be able to determine fault, work with insurance companies, and negotiate settlements to help cover the costs of the accident. Reach out to a West Virginia truck accident lawyer at Hayhurst Law PLLC today!
Prepare for Your Consultation
If you've been in a truck accident and are getting ready for a consultation with a West Virginia truck accident lawyer, there are several steps you should take. First, gather all of your medical records, including any doctor's appointments, prescriptions, and emergency room visits, as well as a list of financial losses related to the accident. Obtain the first and last names, along with contact information of witnesses. Take photographs of the scene and visible injury. Then contact us at Hayhurst Law PLLC for a consultation.
When you meet with your lawyer, they will likely ask you questions about the accident, your injuries, medical treatment, and financial losses. Based on your answers, they will assess your case and determine whether you have a valid claim. Your lawyer can negotiate an insurance settlement or lawsuit if needed.
It's important to remember that truck accidents can be complex and having an experienced lawyer is crucial. You should be honest and clear when discussing the accident and your injuries, and realistic about what compensation you can expect to receive. We can also discuss our fees and what we can handle for you.
If you've been involved in a truck accident, it's essential to seek legal assistance as soon as possible. Delaying can result in losing out on compensation. During your consultation, be prepared to discuss the accident details, your injuries, financial losses, and insurance coverage. Don't forget to inquire about any fees and what documentation or information you should bring. By being prepared, you can help your West Virginia truck accident lawyer assess your case and improve your chances of receiving fair compensation.
In addition to the tips mentioned above, there are a few other things you can do to prepare for your consultation with a lawyer after a truck accident:
Write down your questions: Before your consultation, write down any questions you have for your lawyer so that you don't forget anything during the meeting. This can help ensure that you get all the information you need.
Bring any relevant documents: In addition to your medical records, bring any other relevant documents related to the accident, such as the police report or any correspondence with insurance companies.
Take notes during the meeting: It can be helpful to take notes during the meeting so that you can refer back to them later. This can help you remember important details and instructions.
Don't be afraid to ask for clarification: If you don't understand something your lawyer says, don't hesitate to ask for clarification. It's important that you fully understand your legal options and what to expect from the process.
By following these additional tips, you can help make sure that your consultation with a lawyer after a truck accident is as productive as possible. The more details you have for your West Virginia truck accident lawyer, the more our team at Hayhurst Law PLLC can assess your situation and help you get fair compensation.